Sister companies match donations dollar for dollar raised by the team
ATLANTA, October 15, 2016 – The sister companies Ceto and Associates and CetoLogic teamed up to raise funds for JDRF, which is the leading global organization funding type 1 diabetes (T1D) research. JDRF exists for the millions of children, adults and families affected by this disease. The foundation's strength is their exclusive focus and singular influence on the worldwide effort to stop T1D.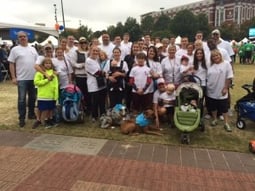 In addition to fundraising, the companies participated in the Atlanta JDRF One Walk. The walk helps create awareness and a world without type 1 diabetes (T1D). The companies had 50+ walkers, and team donations of over $2,000. The companies matched that total, allowing Ceto and Associates and CetoLogic to donate almost $4,500 to the cause!
The firm's donation to JDRF was in honor of Haley Locklier. Haley was diagnosed with Type 1 diabetes at the tender age of 2, she is now 24 years of age. Haley is the granddaughter of Nicholas Ceto Jr., CEO of Ceto and Associates, and the niece of Douglas Ceto, President and CEO of CetoLogic.
"There are many great charities that need financial assistance to continue to do their good work. However, one of my favorites is JDRF. Through the contributions of many people, for many years, the results are paying off! There are breakthroughs almost daily that will soon result in finding a complete cure. I am the grandfather of a Type 1 diabetic and I pray constantly that a cure is found, not only for her, but for the hundreds of thousands of others just like her. I will continue to do all that I can to speed this process along," said Nicholas Ceto Jr., CEO of Ceto and Associates.
"The research being done today and the advances that have been made are directly related to the efforts of everyone who participates in walks like these. CetoLogic is proud to be part of such a great cause, and Haley has touched and inspired so many people with her determination and "never give up attitude." We love you Haley for all you do for others and JDRF."
About JDRF (Juvenile Diabetes Research Foundation)
JDRF is the leading global organization funding type 1 diabetes (T1D) research. Our mission is to accelerate life-changing breakthroughs to cure, prevent and treat T1D and its complications. To accomplish this, JDRF has invested nearly $2 billion in research funding since our inception. We are an organization built on a grassroots model of people connecting in their local communities, collaborating regionally for efficiency and broader fundraising impact, and uniting on a national stage to pool resources, passion and energy. To learn more or donate please visit www.jdrf.org
About Ceto and Associates
Ceto and Associates, a national consulting firm providing consulting services to the financial industry, specializes in developing and deploying solutions that afford financial institutions the ability to increase their profitability through the implementation of revenue enhancement programs and strategies that improve overall organizational and operational performance and efficiencies. Founded in 1994 and headquartered in Atlanta, Ceto and Associates places their clients' needs in the forefront and designs solutions tailored to their culture, goals and objectives. Ceto and Associates has earned the trust and improved the profitability of more than 1,500 financial institutions in all 50 states and Canada. For more information about Ceto and Associate's solutions call 1.866.227.1361 or visit their website at www.ceto.com
About CetoLogic
Atlanta, Ga.-based CetoLogic provides software solutions and analytics to financial institutions and retail organizations. CetoLogic proudly services the needs of more than 1,500 clients in 50 states and Canada by providing "Smart Solutions that Make Dollars and Sense." CetoLogic is the designer of C3 Financial, a web-based cash forecasting and management software. CetoLogic also responsible for Deposit Reclassification, a Regulation D retail sweep program designed to eliminate reserve balances. CetoLogic's solutions improve earnings, efficiencies, risk management and operations. CetoLogic's pALMs is a web-based asset/liability management simulation software that provides accurate and detailed analysis asset-by-asset and liability-by-liability. These solutions improve earnings, efficiencies, risk management and operations. For more information about CetoLogic's solutions, call 1.877.495.0687 or visit their website at www.cetologic.com